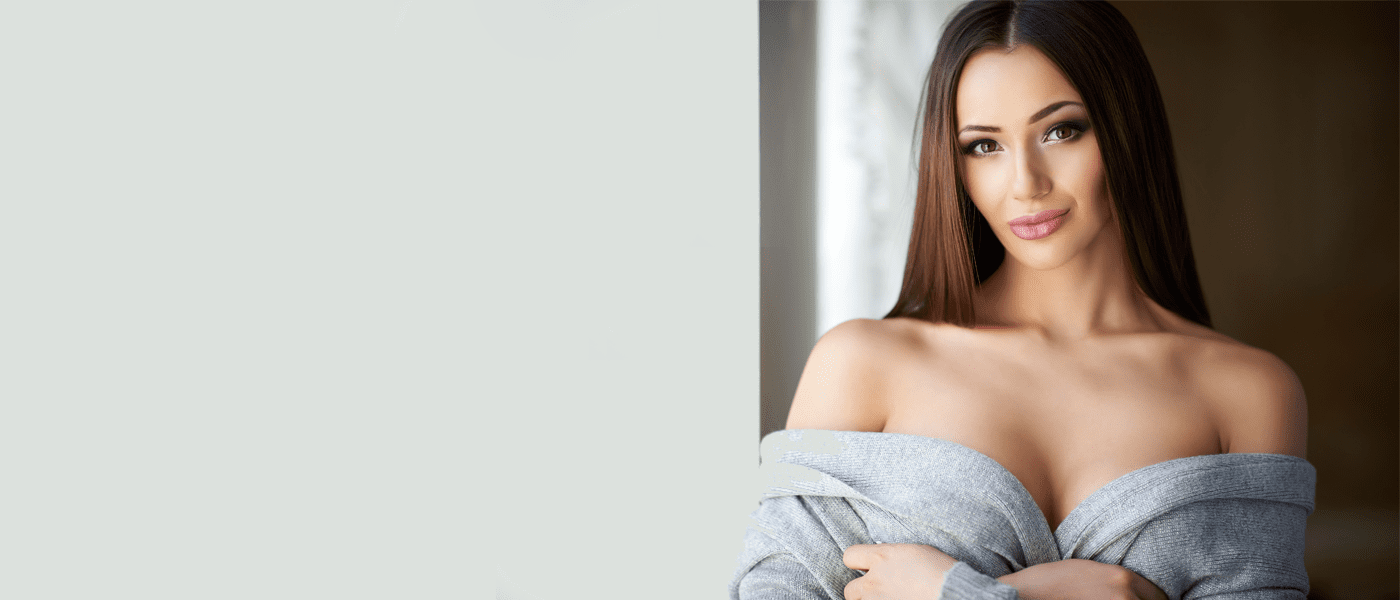 What is Breast reduction ?
Breast reduction, also known as reduction mammaplasty, is a surgical procedure aimed at removing excess breast fat, glandular tissue, and skin to achieve a breast size that is more proportional to your body and alleviate the discomfort associated with excessively large breasts (macromastia).
Disproportionately large breasts can cause both physical and emotional distress for patients. Women with macromastia may experience physical discomfort resulting from the weight of their breasts, making it challenging to perform daily physical activities. Along with the physical ailments of macromastia, some women may suffer from emotional distress or more significant mental health problems due to their large breasts.
Although breast reduction is often performed to address medical issues, women who do not have the symptoms of macromastia but are unhappy with the size of their breasts can still opt for breast reduction as a cosmetic procedure. Women choosing to undergo breast reduction surgery for aesthetic reasons may cite various factors, including social stigmas and wardrobe concerns.
Overly large breasts can cause health and emotional problems. In addition to self-image issues, women may also experience physical pain and discomfort. The weight of excess breast tissue can impair their ability to lead an active life. The emotional discomfort and self-consciousness often associated with having large pendulous breasts can be as important an issue as the physical discomfort and pain.
You may be a candidate for breast reduction surgery if:
You are physically healthy

You have realistic expectations

You don't smoke

You are bothered by feeling that your breasts are too large

You have breasts that limit your physical activity

You experience back, neck, and shoulder pain caused by the weight of your breasts

You have shoulder indentations from bra straps

You have skin irritation beneath the breast crease
There are three common techniques for breast reduction surgery: liposuction, vertical (lollipop) breast reduction, and inverted T (anchor) breast reduction.
LIPOSUCTION FOR BREAST REDUCTION
LIPOSUCTION FOR BREAST REDUCTION
Liposuction is a quicker, less invasive procedure for breast reduction that offers lasting results with minimal scarring. Liposuction is an option if you are seeking nominal to moderate changes in breast size, if your breast tissue is mostly fatty tissue, and if you have good skin elasticity.
While breast size is reduced with liposuction, the overall shape and contour of the breast, including the position of the areola and nipple, will remain the same. If you are seeking a lift, modification to breast shape or symmetry, one of the surgical options below may be best. 
VERTICAL (LOLLIPOP) BREAST REDUCTION
The lollipop breast reduction requires two incisions: one at the edge of the areola and the other from the lower edge of the areola to the crease beneath the breast. While there may be more scarring with this procedure compared to liposuction, the scars are located beneath the breast and are generally concealed by clothing or the shape of the breast itself.
A vertical incision breast reduction is ideal for those who need mild to moderate reduction in breast size or for those with noticeable sagging who would like significant reshaping and lifting of the breast tissue. This method allows for the removal of both fat and glandular tissue. The breast is made narrower, lifted, and restructured, so that the areola and nipple are moved to a natural-looking position.
VERTICAL (LOLLIPOP) BREAST REDUCTION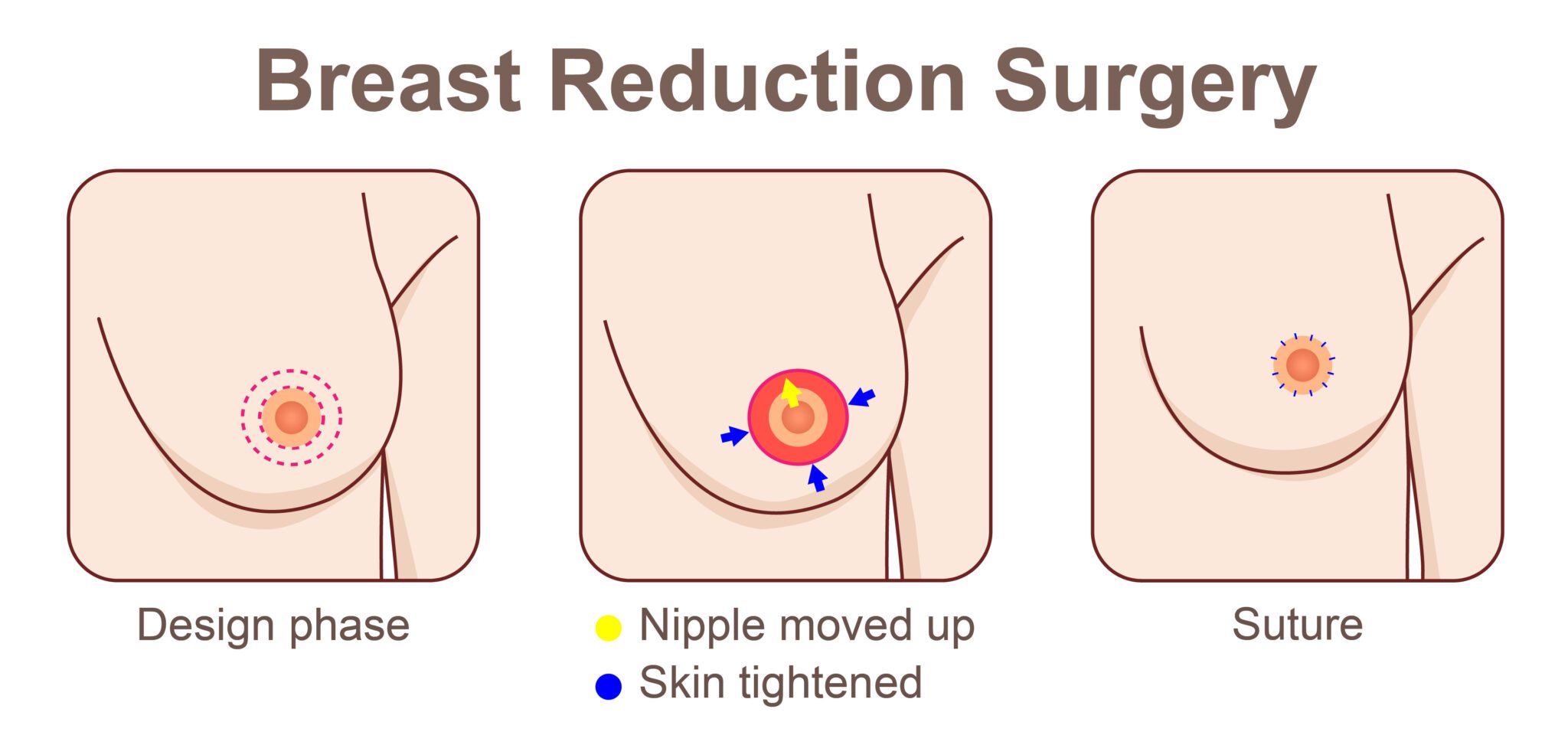 INVERTED T (ANCHOR) BREAST REDUCTION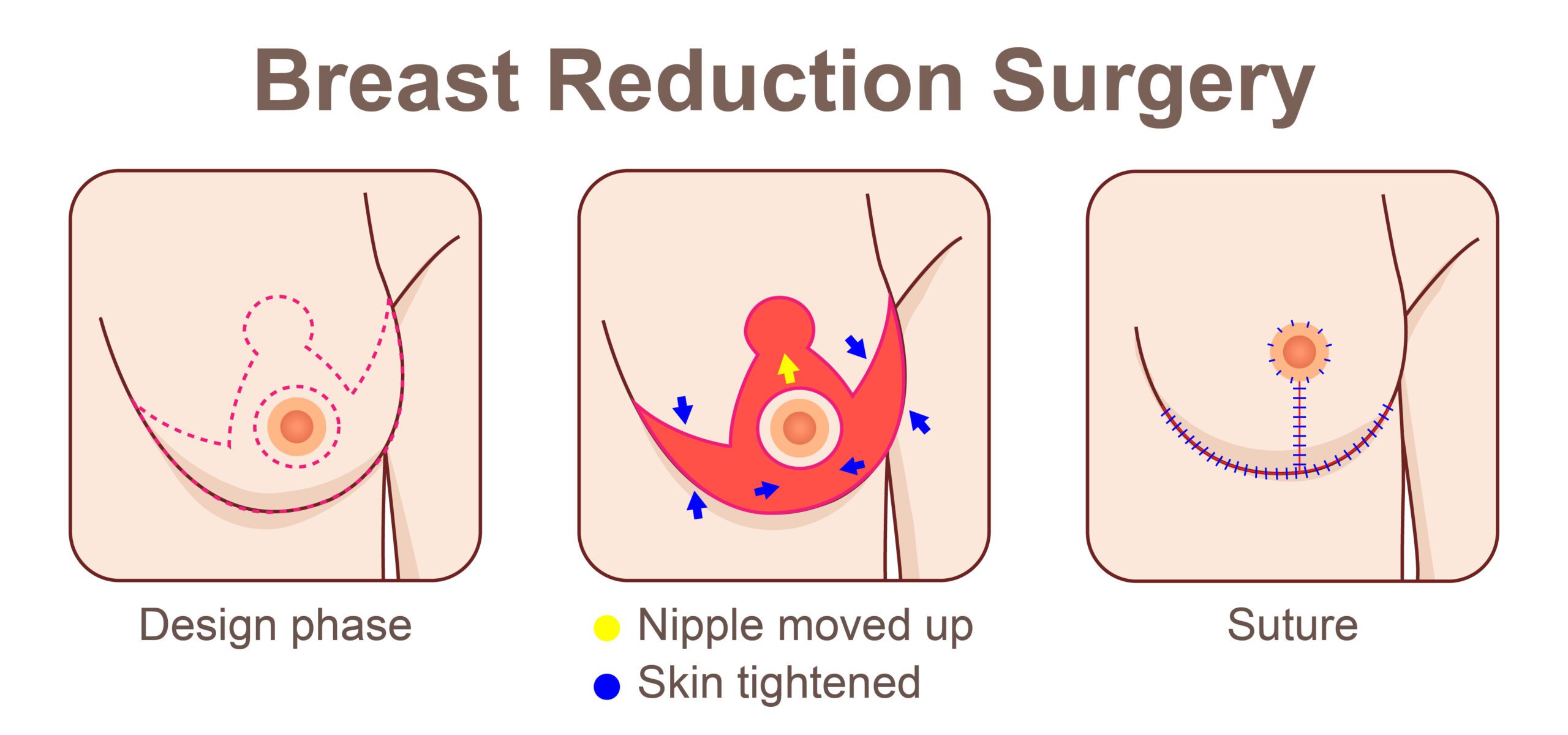 INVERTED T (ANCHOR) BREAST REDUCTION
The Inverted T breast reduction incurs the same two incisions as the vertical incision breast reduction, but with one additional incision that follows the crease underneath the breast. While there will be more scarring with this method, scars are concealed by the shape of the breast itself, bras and bikini tops.
An anchor, or inverted T breast reduction allows for greater tissue removal and more extensive reshaping. This method is thus ideal for those with significant sagging or in need of a considerable reduction in breast size. However, this method also requires the longest downtime.
Before procedure
About procedure
After procedure
Before procedure
Before the surgery, a breast ultrasound is performed on the patient to guide the doctor in determining the size and characteristics of the breast. To prepare for the surgery, patients should stop taking medications such as aspirin at least 10 days before the procedure. Diabetic patients should keep their blood sugar levels under control. Smoking should also be avoided prior to the surgery. In addition, patients should fast for at least 8 hours before the surgery. It is important to inform your doctor of all medications and natural health products you are taking, as some may increase the risk of complications during the surgery. Your doctor will advise you on whether you need to stop taking any of these medications and when to do so. Finally, it is recommended to arrange for someone to drive you home and stay with you for at least one night after the procedure if you are not staying in the hospital.
About procedure
After procedure
Frequently asked questions