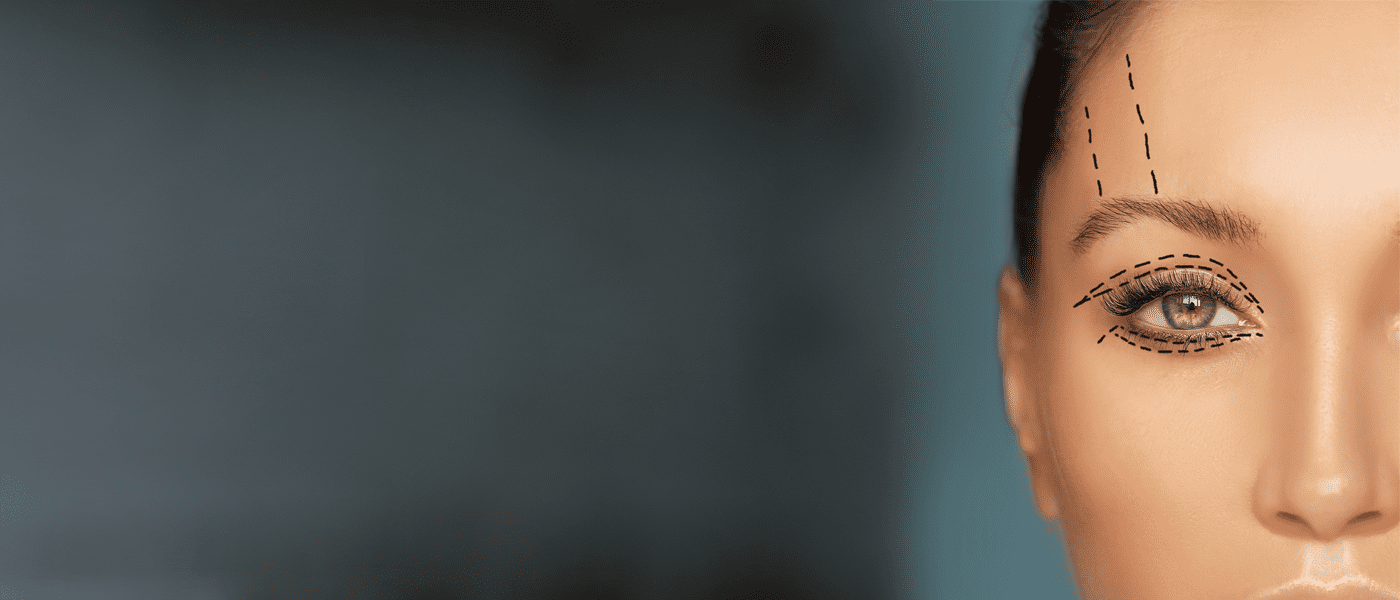 Minimize Age. Maximize Beauty.
Blepharoplasty is a type of surgery that removes excess skin from the eyelids. With age, eyelids stretch, and the muscles supporting them weaken. As a result, excess skin and fat can gather above and below your eyelids. This can cause sagging eyebrows, droopy upper lids and bags under the eyes.
Blepharoplasty might be an option for:
      Baggy or droopy upper eyelids

      Excess skin of the upper eyelids that partially blocks peripheral vision

      Excess skin on the lower eyelids

      Bags under the eyes
Blepharoplasty is a surgery performed to remove heavy, sagging skin and bulging fat that can make you look older and more tired than you actually are. Aesthetic benefits of this procedure can take years off the appearance of the eyes.  This surgery is usually done for cosmetic reasons. It's also an effective way to improve sight in older people whose sagging upper eyelids get in the way of their vision.
The eye is an important component of facial aesthetics, and blepharoplasty can play a vital positive role in facial harmony and the perception of aging. Blepharoplasty is one of the most commonly performed facial cosmetic procedures. Symptoms such as tired-looking eyes, excess skin, droopy eyelids, or circles around the eyes may benefit from blepharoplasty. It can also be combined with other facial and skin rejuvenation procedures such as brow or mid-face lift, lasers or chemical skin resurfacing.
Blepharoplasty can be done to rejuvenate the upper eyelids, the lower eyelids, or both.
Upper Eyelid Surgery (Upper Blepharoplasty)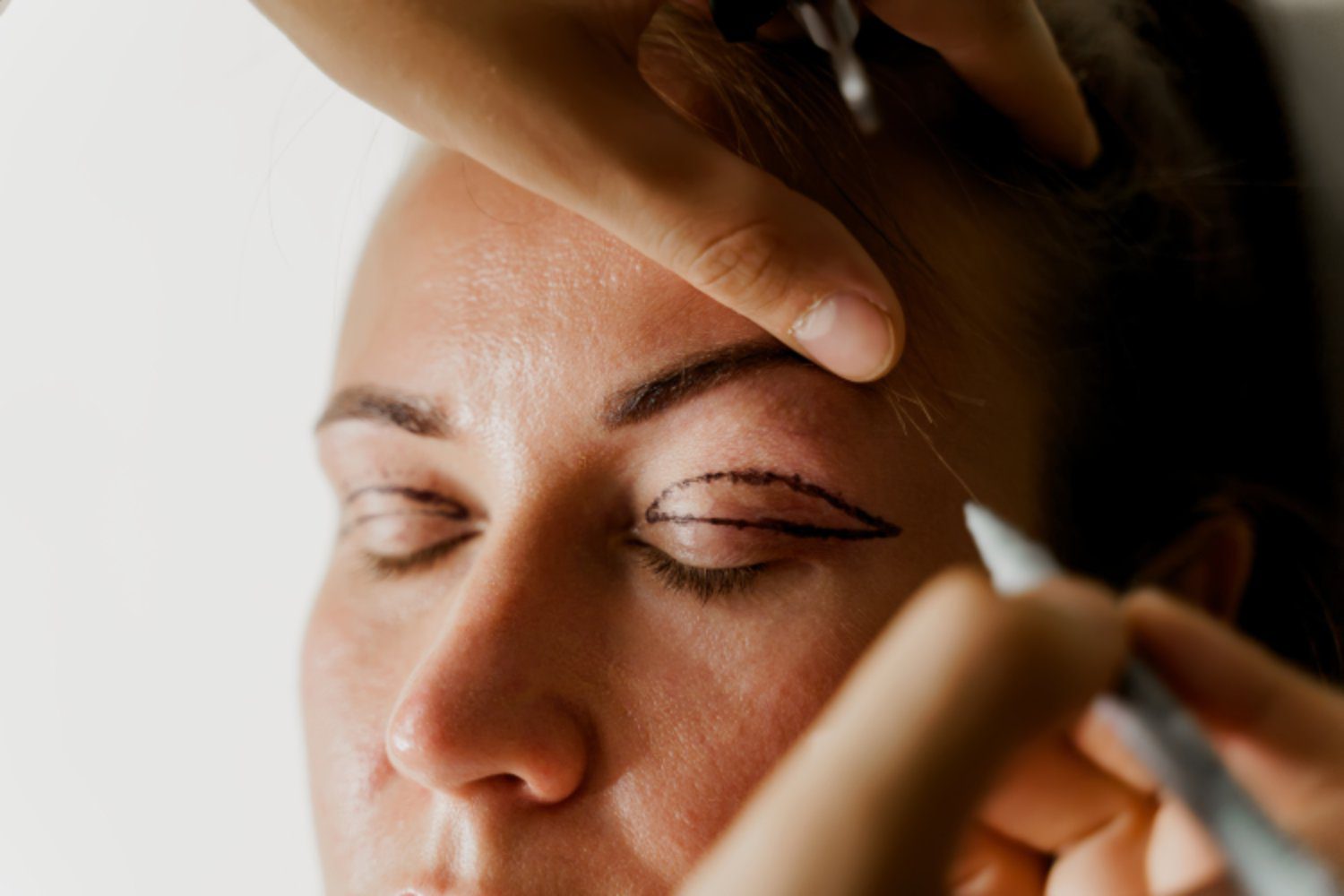 Upper Eyelid Surgery (Upper Blepharoplasty)
An Upper Eyelid Lift or Upper Blepharoplasty is a specialist eyelid surgery procedure that removes the folds of loose skin and bulges of protruding fat which sit over the upper eyelids, to produce a less-tired and more youthful appearance.
As a result of the downward pull of gravity and loss of elasticity in the skin, the skin and muscles around the eye weaken and stretch resulting in an accumulation of loose skin and protrusion of fat resulting in "eye-bags" or a hooded appearance of the upper eyelid skin. This trait may run in families and may be accelerated by the effects of smoking, sun-exposure and weight-loss.
Lower Eyelid Surgery (Upper Blepharoplasty)
Lower lid blepharoplasty is one of the most complex procedures performed by plastic surgeons. Here we provide a comprehensive and systematic approach to the lower eyelid, which is critical for lower lid blepharoplasty success.
The commonly perceived aging changes in the lower eyelid are a natural consequence of the anatomic attachments and age-related changes in the periorbital tissues. A variety of techniques have evolved to address cosmetic concerns in the lower eyelid including subtractive blepharoplasty techniques, elevation of ptotic eyelid and midface tissues, and the injection or implantation of autogenous or alloplastic materials to diminish lower eyelid "bags." Greater anatomic understanding of the pathogenesis of aging changes in the lower eyelid has led to more anatomically conservative and appropriate cosmetic surgical treatments. The decline in purely subtractive surgical techniques in blepharoplasty surgery and the advent of fat repositioning and other volume enhancement techniques has improved surgical outcomes.
Lower Eyelid Surgery (Upper Blepharoplasty)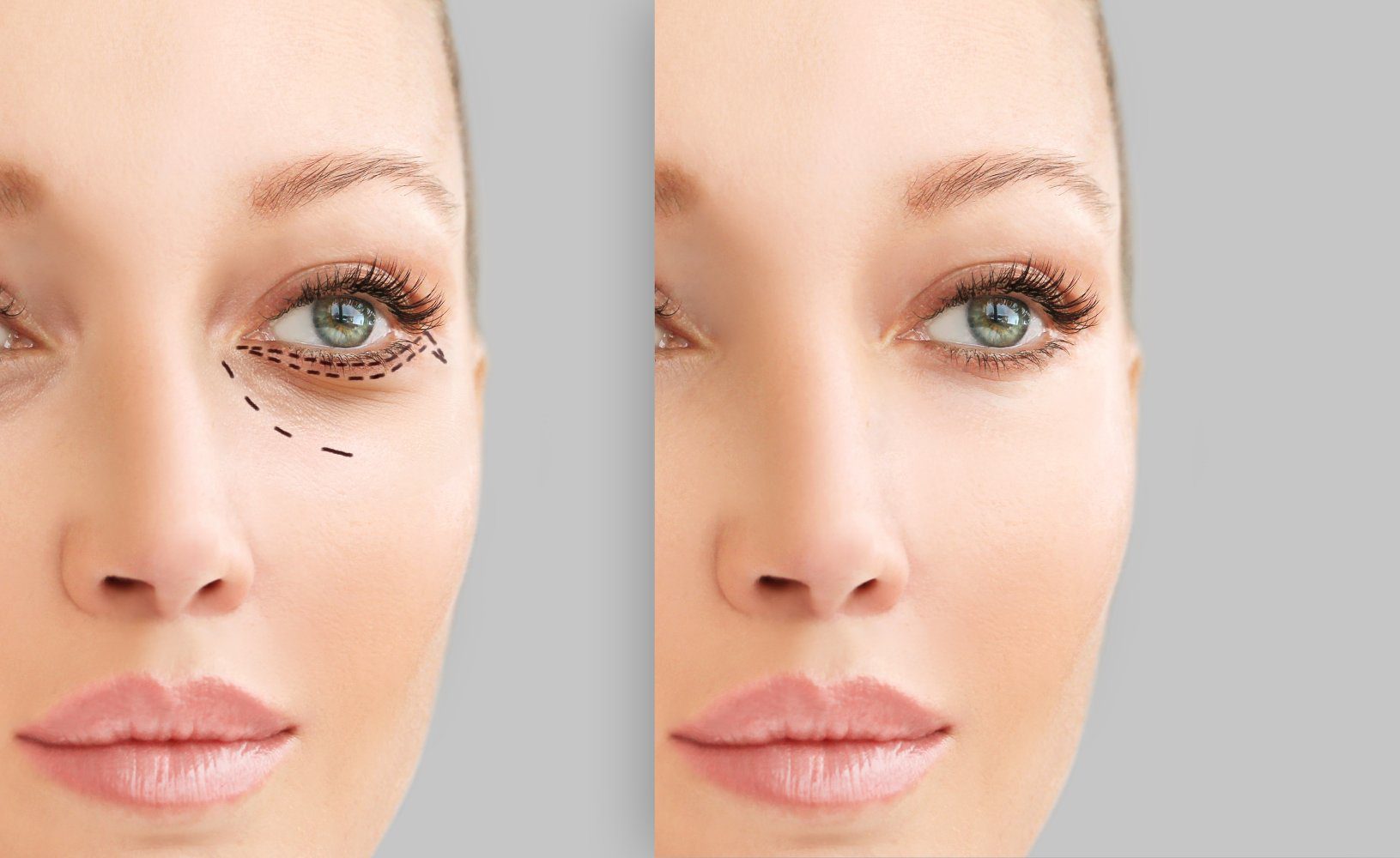 Before procedure
About procedure
After procedure
Before procedure
If you are considering blepharoplasty by HEG surgeons, we recommend taking several steps to prepare for the procedure. Since blepharoplasty is a surgical procedure, it is important to ensure that you are in good health before undergoing the surgery. This may include meeting with your surgeon for a consultation prior to the procedure and preparing for your recovery and aftercare.
During your consultation, our surgeon will conduct a thorough examination around your eyes and discuss your surgical options with you. It is important to bring a complete and updated list of your medications, vitamins, and supplements to this appointment. Our surgeon may advise you to avoid certain medications and supplements before the surgery to reduce the risk of excessive bleeding.
Depending on your health and the type of anesthesia you will be receiving, you may need a medical clearance from your primary care physician or cardiologist in order to proceed with the surgery and to stop certain medications.
The day before the surgery, make sure you know which medications you should or should not take, and if you need to fast on the day of the surgery. Double check your surgery time and ensure that you have a ride to the hospital. It is also important to get a good night's rest before the procedure.
To reduce the risk of bleeding, you should avoid aspirin, anti-inflammatory drugs, and herbal supplements. Additionally, it is important to arrange for someone to drive you home after the surgery and to stay with you for the first night of your recovery. At our hospital, we prioritize the safety and well-being of our patients, and we are committed to providing high-quality care throughout the blepharoplasty process.
About procedure
After procedure
Frequently asked questions