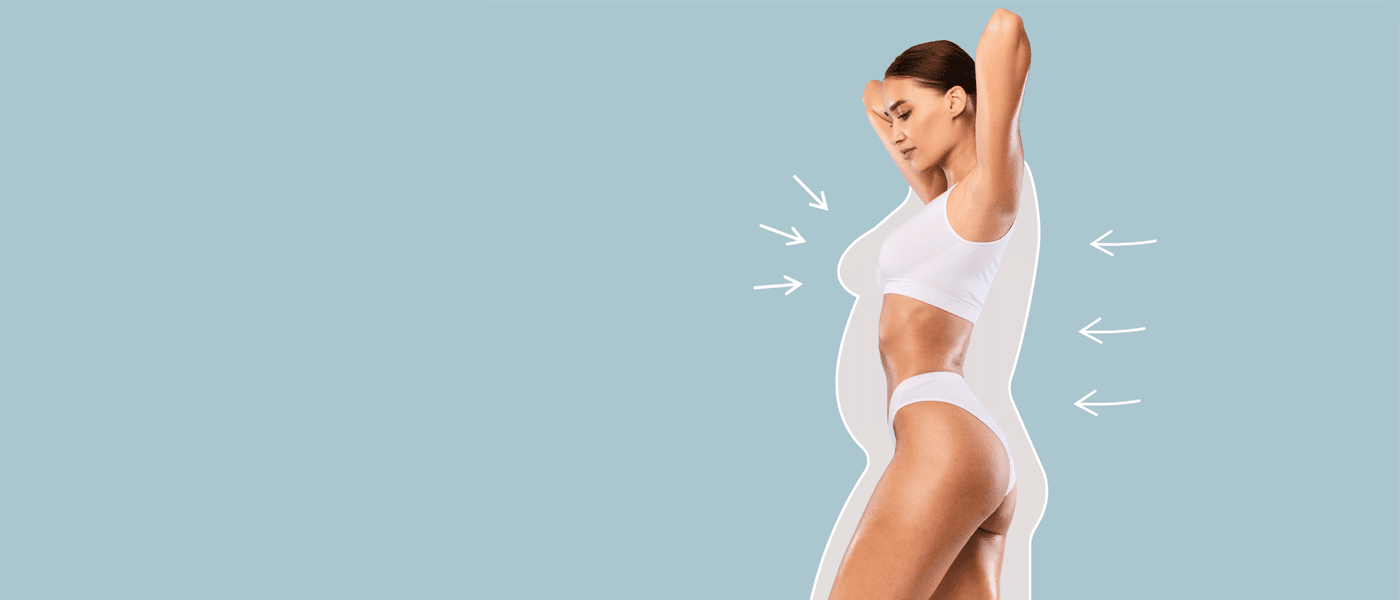 Say "Hello" To A Perfect Shape.
What is Abdominoplasty (tummy tuck) ?
An abdominoplasty, also known as a tummy tuck, is a surgical procedure that aims to flatten your abdomen by removing excess fat and skin and tightening the muscles in your abdominal wall. The procedure can be considered a "mini" or more involved procedure, depending on the amount of skin and fat being removed. It's important to educate yourself, thoroughly analyze your own situation, and take your time to arrive at a final decision. It should not be seen as a substitute for weight loss.
Both men and women who are in good overall health and have a stable weight are suitable candidates for a tummy tuck. It's important to note that a tummy tuck is not the same as liposuction, which is a cosmetic surgery used to remove fat deposits. However, your surgeon may choose to perform liposuction as part of the tummy tuck procedure.
Women who have had multiple pregnancies and have stretched muscles and skin may find the procedure useful to tighten those muscles and reduce the skin. Additionally, a tummy tuck can be an alternative for individuals who have a history of obesity and significant weight loss but still have excessive fat deposits or loose skin in the abdominal area.

This option is recommended for patients who require the most correction. The incision, or cut, is made along the bikini line. The length of the resulting scar depends on the amount of excess skin present. Your surgeon will then manipulate and shape both the skin and underlying muscle as needed. This procedure also involves an incision around your navel (belly button), as it is necessary to free it from surrounding tissue. Drainage tubes may or may not be placed under your skin, which will be removed in a few days, as determined by your surgeon. 
Mini-abdominoplasties are performed with shorter incisions and are often done on people with less excess skin. During this type of procedure, your belly button is not typically moved. Your skin will be separated between the incision line and your belly button. This procedure usually takes one to two hours. As with a full abdominoplasty, you may or may not have drainage tubes after the surgery. 

Circumferential abdominoplasty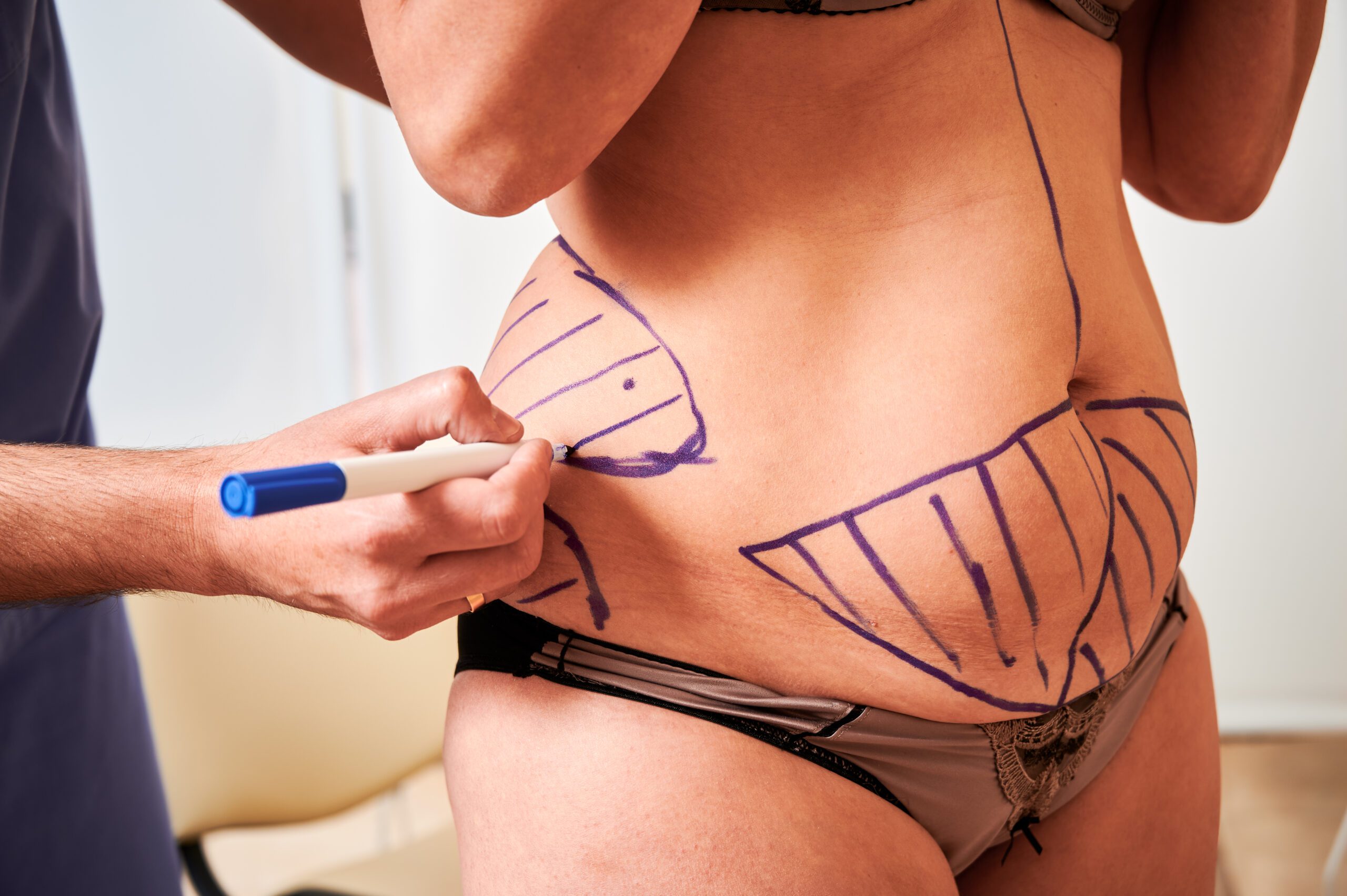 Circumferential abdominoplasty
This surgery involves the back area as well. When there is a significant amount of excess fat in both the back and the abdomen, you may need to undergo either back liposuction or a circumferential abdominoplasty. The latter procedure allows for the removal of both skin and fat from the hip and back areas, improving the overall shape of your body. By eliminating excess skin and fat and strengthening your abdominal wall, a tummy tuck can give your abdomen a more toned and slimmer appearance. Typically, the results of a tummy tuck are long-lasting, provided that you maintain a stable weight.  
Before procedure
About procedure
After procedure
Before procedure
If you are considering a tummy tuck, you will likely have an initial consultation with a plastic surgeon. During this visit, the surgeon will likely:
Review your medical history: Be prepared to discuss current and past medical conditions, medications you are taking or have recently taken, and any surgeries you've had. Also, inform your doctor if you have any allergies to medications. If your desire for a tummy tuck is related to weight loss, your doctor may ask detailed questions about your weight gain and loss.
Perform a physical exam: To determine the best treatment options for you, the doctor will examine your abdomen. The doctor may also take pictures of your abdomen for your medical record.
Discuss your expectations: Explain why you want a tummy tuck and what you hope to achieve in terms of appearance after the procedure. Ensure that you understand the benefits and risks of the procedure, including scarring. Keep in mind that if you have had previous abdominal surgery, your results may be limited.
Before undergoing a tummy tuck, you may also need to:
Avoid certain medications: You will likely need to avoid taking aspirin, anti-inflammatory drugs, and herbal supplements, which can increase bleeding.

Maintain a stable weight: Ideally, you should maintain a stable weight for at least 12 months before having a tummy tuck. If you are severely overweight, your doctor may recommend that you lose weight before the procedure. Significant weight loss after the procedure can diminish your results.

Arrange for help during recovery: Plan for someone to drive you home after you leave the hospital and stay with you for at least the first night of your recovery at home.
During the procedure, you will be under general anesthesia, which will make you completely unconscious and unable to feel pain. In some cases, you may be given pain-relieving medication and be partially sedated. 
About procedure
After procedure
Frequently asked questions